Welcome to Gold Sound's TUBE PAGE.
Just for tube lovers...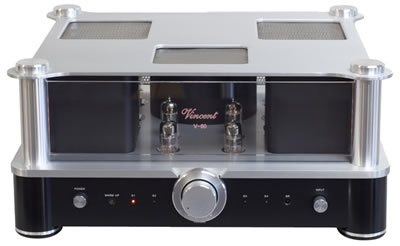 Vincent V60

Award Winning....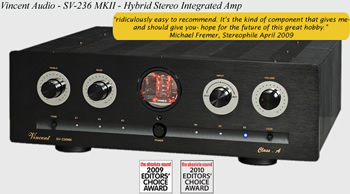 Vincent Hybrid Tube Integrated Amp
On display now for your listening pleasure...
Gold Sound is your source for new & used tube audio including power amps, integrated amps & phono preamps with superior sound quality, reliability & value. You might ask, "Why do people still want tube amplifiers?" Most guitarists prefer almost any tube guitar amp over almost any solid state amp. Audiophiles love the imaging & midrange of tube amps. New tubes are easy to find from many sources. Tubes can last many years. Vincent amps have a two year parts & labor warranty, including all tubes.
Most Vincent amps are hybrids, using both tubes & transistors. The 236 integrated amp has a tube preamp with a solid state power amp. This gives you the best of both worlds, the imaging & delicacy of tubes with the power of solid state. "Vincent's driving passion is to build serious high-performance audio products that are eminently affordable." ABSOLUTE SOUND

Our new tube amps can sound better & cost less than classic amps. New amps gives you a 2 or 3 year parts & labor warranty, remote control, better quality capacitors & other internal parts, plus gold RCA inputs & double banana outputs.

We display these tube amps:

TRIODE TRV35SE Integrated Amp, all tube
RXP6L Power Amp, triode or ultralinear, all tube

VINCENT SV236MK Integrated Amp, hybrid
SA31 Preamp, hybrid

Thanks to you, our customers, we continue to grow for over 37 years. Here are reviews on some of our products.

QUAD TUBE AMPS
HI-FI CHOICE chose the top hi-fi of all time, including a Quad Tube Preamp & Amp. The only other tube amp chosen costs over 10 times more.

QC24 Preamp $899 "First-rate imaging; lively, engaging, remarkably neutral." ABSOLUTE SOUND EDITOR'S CHOICE 3/10
RATED in SAME CLASS as amps for over $7000; EXCEPTIONAL VALUE "Exhibiting timbral beauty, spatial honesty & deep emotional involvement, there isn't a sweeter amp on earth; it's beautiful." STEREOPHILE RECOMMENDED 10/07

Quad II Classic Power Amp, $3100/pr. "A real honey. Delicious rich, smooth & colorful midrange. Renders strings, voices, winds, saxes & more with sweetness, delicacy & beauty." ABSOLUTE SOUND RECOMMENDED
STEREOPHILE RECOMMENDED 4/11, Exceptional Value

QUAD II 80 Amp mono, originally $11,400/pair; now $8998/pair, One of the top 10 designs from 2008 Consumer Electronic Show "This 80 watt monoblock tube amp follows Peter Walker's traditions & philosophy & the result is a winner. It has the grunt & low impedance to drive many a difficult speaker & is an ideal match for Quad's own line of electrostatic speakers." ENJOY the MUSIC.com 1/08

Quad II Classic Int. Amp, $5999 "Sounded brilliant; string tone was marvelous throughout; magnificcent; satisfying. h & colorful midrange. They have thoroughly succeeded."
STEREOPHILE RECOMMENDED 11/11

VINCENT
"The German company Vincent was began in 1995 with the goal of placing high end sound within reach of the common man. The question of how to make high end affordable was answered by its founder, Uwe Bartel, using a business model, which while innovative for its time has become common-place today: Design products in the West & have them built in China. This marriage of German engineering & Chinese manufacturing proved quite successful.
Mr. Bartel, an electronics engineer, had no problem designing interesting audio gear & Vincent's attractive mix of good sound & value gained momentum & global market share. Even though their fit, finish & elegant aluminum chassis exude a distinct high end look, the price is quite affordable by high-end standards & well below the onset of sticker shock. Vincent's quality is more than skin deep; Russian rather than Chinese tubes are used exclusively." [Some well known tube amps only use Chinese tubes, notorious for a very short span & lots of unit-to-unit variability.]
ABSOLUTE SOUND's GUIDE TO PREAMPS & POWER AMPS

VINCENT INTEGRATED AMPS GERMAN DESIGNED & PARTS
All integrated amps include Remote Controls

SV236mark II, list $2400, now $1995, RATED in the SAME CLASS as $6100 AMPS. 150W/ch/8 ohm; 250W/ch/4 ohm; remote control; tube / solid state hybrid "Outstanding build quality & parts. It has 3
12AX7 tubes & 6 line level inputs, treble & bass
controls & a loudness button. It produced a full-bodied, self-assured sound with good bass & a nimble rhythmic presentation. It's the kind of component that gives me hope for this great hobby." STEREOPHILE RECOMMENDED 4/11

"This well-built amp combines the best of two worlds by using a vacuum-tube preamp to drive a solid-state power amp. Listener's will appreciate the combination of deep, powerful, authoritative solid-state bass & tube-fueled delicacy, shimmering detail & almost surround-like imaging." ABSOLUTE SOUND EDITOR'S CHOICE 3/11


VINCENT PREAMPS GERMAN PARTS & DESIGN
SA31, list $750, now $649, "A well-made entry-level vacuum-tube preamp with tone controls & a loudness contour switch. The preamp's sound is characterized by a rich, seductive midrange & hearty & solidly weighted bass. Terrific bang for the buck." ABSOLUTE SOUND EDITOR'S CHOICE 3/10

SA31mk, $1399, "Staging & focus are strengths. Its nice to find ones like these that deliver so much pleasure for such a relatively modest price." ABSOLUTE SOUND 12/10; EDITOR'S CHOICE 3/11

SAT8, $2500, "This tube preamp is about bass precision, spacious soundstaging, speedy transients, pure midrange textures & rhythmic drive. Microdynamic nuances are reproduced with commendable conviction. A rare musical blossom at this price & an absolute steal considering its twin virtues of crystalline clarity & ample boogie factor."
ABSOLUTE SOUND EDITOR'S CHOICE 3/11

"An absolute steal at its price; nothing else at this
price point comes close. It made a very positive first impression." ABSOLUTE SOUND 1/09

VINCENT POWER AMPS - GERMAN DESIGNED & PARTS

SP331, list $1300, now $1199, 150W/ch/8 ohm; 250W/ch/4 ohm; POWER AMP of the YEAR, 2007 "One of the best-sounding sub-$2k amps. A hybrid tube / solid-state amp combines the richness & subtlety of fine tube designs - especially through the midrange - with the sheer low frequency grunt, control & agility of a good solid-state amp. In the treble it sounds slightly softer but also more delicate than solid-state amps in its price range." ABSOLUTE SOUND EDITOR'S CHOICE 3/10
"One of the sweetest deals in high end audio today. Midrange subtlety & richness in spades; a delightful holographic 3D presentation that reveals the finely contoured edges of notes." ABSOLUTE SOUND 1/08

SP331mk, $2199, 150W/ch/8 ohm; 300W/ch/4 ohm, "Impressively spacious; convincingly lifelike & well-defined soundstage; fine feeling of lilt & pace, staging & focus are strengths. Its nice to find ones like these that deliver so much pleasure for such a relatively modest price." ABSOLUTE SOUND 12/10; EDITOR'S CHOICE 3/11
SPT800, $4799/pair, 200W/ch/8 ohm; 320W
/ch/4 ohm; POWER AMP of the YEAR, 2008 "A remarkable performer. Its tube signature shines through clearly in the midrange. Soundstage dimensionality is superior to conventional solid-state. It closely fullfills the promise of a hybrid design: Tube magic with plenty of bass crunch & drive in one nicely gift-wrapped chassis."
ABSOLUTE SOUND EDITOR'S CHOICE 3/10
"Delivers tube magic at an eminently reasonable price. The hybrid design results in a rock-solid bottom end that tube amps simply can't approach. Kudos to Vincent for shifting the economics of high-end audio within reach of the working man."
ABSOLUTE SOUND 1/09



VINCENT TUBE HEADPHONE AMP

GERMAN DESIGNED & PARTS
KHV1, list $1,000, now $899, "Adept at conveying power, heft, nuance & grace. Impressed by its testicular fortitude; drove both sets of reference headphones with plenty of headroom. Excellent measured performance." STEREOPHILE RECOMMENDED 4/11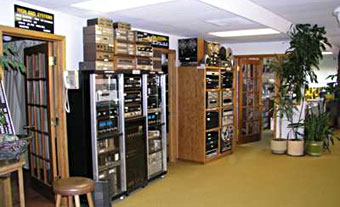 Gold Sound has a great selection of used tube equipment from Dynaco, Eico, Fisher, Harman- Kardon, Heath-Kit, McIntosh, Scott, Sherwood & more...

MONTHLY SPECIALS
on New, Demo and Used Equipment !

Gold Sound is now celebrating our 38th year in business!

Best selection of used tube equipment in Denver!

This Page Last Updated: 4/22/13



Visitors since Jan 2001

Copyright © 2001-2007 GoldSound, Inc.
.