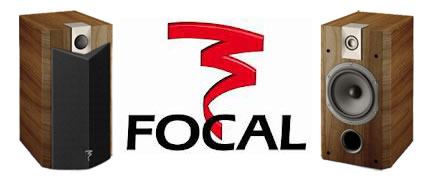 FOCAL SALE
SAVE to 33% on new A stock!

Model List Sale Type Maximum
Wattage
XS Book $400 $299/pr 4" powered 20W
705V $500 $399/pr 5" Bookshelf 100W
714V $1200 $799/pr Dble 5"Tower 150W
716V* $1500 $999/pr Dble 6.5"Twr 200W
SW700V*$800 $599ea 11" Sub, w/500W amp


Our biggest Focal sale! Quantities limited. All new & in sealed boxes. The 700V models have a 5 year parts & labor warranty. XS Book has 2 years. All 700 models [except the SW700V subwoofer] have 1" aluminum magnesium tweeters, 8 ohm & are high efficiency. The 705V is 89db efficient & the 706V is 90db, which is higher than most small speakers. The 714V & 716V towers are 91 - 92 db efficient, or two to four times many speakers' efficiency. This is like doubling or quadrupling your amp's power, plus lowering the amp's & speaker's distortion.

*these units are demos & are in perfect condition


Focals from $499/pair through $190,000 are highly recommended by ABSOLUTE SOUND & STEREOPHILE for excellent sound & superior value. Focal is one of the few companies that still makes every part of their speakers, all in Europe.


"Two of Europe's most successful high-end audio brands, Focal & Naim, are joining forces. With annual earnings of $82 million & more than 300 employees, Focal will automatically become a European hi-fi leader in terms of sales & resources." STEREOPHILE 11/11.
Today most European speaker brands, including B&W, KEF, Mission & Tannoy, are made in China. Most U.S. brands, including JBL, Infinity, Boston Acoustics & Polk, are made in Asia. Focal is one of the few world-class speakers still made in Europe. Unlike most competitors, every Focal home stereo speaker, even at $499/pair, includes real wood veneer at no extra charge. Their cabinets have exquisite craftsmanship with beveled baffle edges to minimize diffraction. Cabinet walls are .8" to 1" thick with extensive bracing in the towers, plus non-parallel woofer & midrange subenclosures.

Focal's comprehensive speaker line includes models for stereo & home theater; bookshelf & tower models, centers, subwoofers; on-wall, in-wall, in-ceiling & outdoor models, plus powered computer speakers. In addition to their superb craftsmanship, Focal speakers are efficient, usually over 90db.

High efficiency gives you more volume & less distortion. Most other speakers are at least 3db less efficient. This 3db is double the power, or the difference between a 100W & 200W amp. A 90db efficient Focal speaker is twice as loud as a 87 db speaker & four times louder than a 84db speaker with the same wattage input. This efficiency saves you money. Less powerful amps can play as loud. Your current amp will sound cleaner, since it will run at a lower power level with less distortion.

We display the 807W bookshelf & 836W tower speakers. All feature Focal's 1" aluminum-magnesium dome tweeter & non-parallel cabinets with extensive internal bracing to minimize resonance. The towers have nonparallel midrange subenclosures & cast aluminum bases with spiked feet that can adjust from the top side. The CC800W matching center channel is $899. The SW800W subwoofer is $1599.

price/ Max Freq Eff. Size Wt.
pair Woofer Mid watts Resp db HWD lbs.
807W $1599 1-6.5" - 160 4l -28k 92 l8,9,l3" 22
826W $3699 2-6.5" 1-6.5" 220 37-28k 92 4l,l2,l5" 57
836W $4499 3-6.5" 1-6.5" 250 33-28k 92 45,l2,l5" 66

Gold Sound is Colorado's first dealer displaying Focal's new Prestige 800 series, all with Focal's patented W composite sandwich speaker cones. The W cone excels in all three essential speaker cone qualities simultaneously:

1] Low mass, for quicker transient response.
2] High internal damping, to avoid sound coloration.
3] High rigidity, for better bass & less distortion.
The W cone is 20 times more rigid than paper or Kevlar; 89 times than aluminum & 160+ times than polypropylene. Focal invented the W cones for their state of the art $190,000 Grand Utopia, often called the world's best speaker.

The following is from STEREOPHILE, 11/05: "The ideal cone material should be stiff so the cone acts as a piston over a wide frequency range. Piston behavior is especially important for low distortion bass. Low mass allows quick transient acceleration for the best fine detail reproduction. Internal damping quiets any ringing in the cone, which colors the sound. The W cones optimize the balance of stiffness, low mass & self-damping. W drivers are made largely by hand. Every stage of production involves precise, exacting work."
"Today's top-of-the-line Focal tweeters are made of beryllium - one of the rarest & most expensive of metals. Beryllium is 7 times more rigid than titanium or aluminum. [This] tweeter [is] only a few molecules thick & weighs a mere 0.02 gram. Focal is not into being clever or innovative, just for their own sakes. They're into delivering real consumer benefits."

"Every Focal driver is measured & listened to. [By designing & building all their drivers] you can customize drivers for each particular model, adjusting the cone thickness to achieve the desired frequency response without resorting to a complex crossover [which hurts phase response, efficiency, etc.] The result is cleaner, clearer sound & improved efficiency."

"Since it began in 1980, Focal has been a driving force in high-end speaker design, developing many driver technologies, earning 30 patents. Unlike many speakers who use drivers from one supplier & enclosures from another, Focal makes almost all its speaker components from scratch. For most of its 31 years, Focal's primary business was supplying drivers to a Who's Who of the world's great high-end speakers [including Wilson Audio, whose founder, Dave Wilson, praised Focal tweeters' sensitivity, dynamic contrast, transient attack & power handling. ABSOLUTE SOUND 9/12].

"On one tweeter production line, which can build 25,000 tweeters a month, a roll of aluminum-magnesium alloy specially formulated for Focal is cut into squares & the dome structure impressed into the square. The domes are trimmed to a round shape & mounted in a housing that contains a foam compliance. A worker hand glues the voice coil to the dome. Another worker adds the motor assembly. This is high-precision work - the voice coil must be perfectly centered on the inverted dome. The tweeter works correctly only with a precise amount of glue. Focal designed & built the specialized machines to achieve this precision, repeatability. Every driver is individually tested for physical parameters & acoustic performance. Specialized software-controlled imaging technology looks at every driver for tiny physical defects invisible to the naked eye. Focal has refined driver-building for over 30 years. The tweeter builders have 15 years of experience." ABSOLUTE SOUND 1/12

"The R&D lab, housed in a separate building, features Europe's largest anechoic chamber. I'm always interested in the ratio of engineers to sales staff; it gives you an idea if a company is engineering driven or market-driven. In Focal, R&D was far larger than the sales department."

"Driver & cabinet factories are oriented towards high quality. Every worker can stop the line & reject a part. Employees are rewarded for a low failure rate & have profit sharing. Most cabinet factory employees have been building speaker cabinets for most of their lives."

"The Focal is immensely proud that the company designs & builds speaker drivers, cabinets & complete systems in France. Many companies have lost touch with manufacturing due to outsourcing to inexpensive overseas production. They become little more than marketers. Focal stressed that its raison d'etre is innovation & high quality; without these values it could no longer differentiate itself from other speaker manufacturers. Focal intends to be around at least another 30 years & from what l saw & heard, its best days are ahead of it."

FOCAL on DISPLAY

BOOKSHELF SPEAKERS:
Chorus 705V, 706V, 807V
Prestige 807W
POWERED BOOKSHELF SPEAKERS:
XS Book
TOWER SPEAKERS:
Chorus 714V, 716V
Prestige 836W
SUBWOOFER: SW700V
HEADPHONES: Spirit One

FOCAL SPEAKER REVIEWS

705V, Bookshelf, list $500, now $399, Similar to 706V, below "with a little less bass extension & output," ABSOLUTE SOUND EDITOR'S CHOICE 3/12

706V, Bookshelf, list $700, now $499, "Bass power & extension of many small floorstanding units. Very dynamic & visceral, it has a forward perspective that puts vocals right upfront. Shines on rock, blues & orchestral music. Highish sensitivity makes it an easy load for an amp - 50W is plenty in a moderately sized room. More bottom end than similar priced B&W." ABSOLUTE SOUND 11/11; ABSOLUTE SOUND EDITOR'S CHOICE 3/12

XS Book, list $400, now $299/pair, powered small bookshelf speakers, "Work beautifully; offer a lot of sound, flexibility & functionality," ABSOLUTE SOUND 2013 HIGH END AUDIO BUYER'S GUIDE, MOST AFFORDABLE POWERED SPEAKERS
NOW WITH FREE BLUETOOTH ADAPTOR!

Bird, $999/pair, powered small bookshelf speakers with subwoofer, "There is perhaps no finer (or more user friendly) starting point for the high end audio experience than the compact, self-powered Bird system from Focal. The genius of the system is that it looks disarmingly stylish, simple & small, yet offers an amzingly big, rich, room-filling, focused & three dimensional sound. Very sophisticated." ABSOLUTE SOUND 2013 HIGH END AUDIO BUYER'S GUIDE, MOST AFFORDABLE POWERED SPEAKERS with POWERED SUBWOOFER

807W, Bookshelf, $1599/pair a terrific speaker & not just for the price. As a two-way speaker with a crossover at 3000Hz, the woofer handles the lower & middle midrange, which it does seamlessly. The high frequencies are detailed without being bright. Although I did not have a tube amp on hand, the efficiency is such that I can see using one profitably. The 807W are gems. ULTRAHIGH END REVIEW
826W Tower, $3699, Exceptional value, rated in same class as $13,000 models, "Produced a spacious sound with impressive dynamics & powerful bass," STEREOPHILE 4/12
TONE Exceptional Value Award for 2012

836W Tower, $4499, "I love its bold good looks. The sound mirrors that bold look: powerful, lively & spirited with a big sound & refined touches that reveal its high-end pedigree. Highly detailed & very refined top end. Bass was reproduced with serious power & impact & the speakers had no trouble charging up my very large room. What most impressed me was its rich midrange - gorgeous & full, wonderfully walked the line between musicality & detail. It reminded me of speakers costing much more. The 836W is a distinctively styled, wonderfully voiced speaker that offers plenty of performance for its price." SOUND STAGE

ELECTRA 1008BE, $5,499, "Bass surprisingly deep, well constructed & well finished, incredibly open window on sound." TOP PICK, HIGH FIDELITY +, 33/48

ELECTRA 1028BE, Six piece home theater system, $21,480, TOP PICK, HOME THEATER 6/12

ELECTRA 1038BE, $12,495, HOME THEATER 1/12 "I consider it a bargain. If it were my money & I was in search of high-end nirvana & my list included $20,000+ Wilson Sasha W/P or B&W 800 Series Diamond, I'd choose the 1038Be & pocket the difference. All three are fantastic speakers, true benchmarks. I was completely blown away by what Focal managed to pull off with the Electra 1038Be. Unless your budget or desire to spend more allows you to consider speakers in a whole other realm - I'm talking true cost no object stuff - definitely audition the Electra 1038Be before buying a more expensive speaker."
FOCAL HEADPHONE REVIEWS

Spirit One, $279, 5 STARS in Sound & Build Quality, TOP-RATED, "Sound is refined, subtle, expressive, dynamic, detailed & rewardingly communicative. They are transparent & revealing. They never approach sounding brittle, brash or unnaturally bright. It's a very clever design. Excelled in detail; instruments remained distinct & separate. Their finest part is the way it knitted all these elements & qualities together to imbue music with integrity, coherence & credibility. It presented a persuasive & exciting portrayal of music & one that fully engaged the listener. Another vital consideration is that one can enjoy this optimal engagement without the discomfort of hot, sweaty, ears. The Spirit One receives a definite no-hesitation recommendation." HIFI CHOICE 4/12

STEREOPHILE, "With products like the Spirit One headphones, Focal is making smart moves in the right direction."

One of my favorite displays: Focal's sleek XS Book multimedia speaker system ($399) making big sound, playing music from a laptop (through plain-old iTunes) & connected to Cambridge Audio's smart DacMagic Plus ($599). My mind raced, counting all the friends who could use a system like this.



Visitors since Jan 2001



Copyright © 2001-2009 GoldSound, Inc.
.