CAMBRIDGE AUDIO is back at Gold Sound...


Cambridge Azur 651a
ABSOLUTE SOUND & STEREOPHILE highly recommend Cambridge Audio for excellent sound, innovative, cutting edge designs & superior value. "Killed DACs selling for 2-3 times more." STEREOPHILE

"Cambridge is a worldwide success, shipping to 50 nations. I was impressed by the considerable expansion; they employ 27 engineers & 3 software specialists in England [where they began 50 years ago]. Cambridge has the resources & will to keep ahead of the digital game." STEREOPHILE



CAMBRIDGE SALE!
All have 3 year parts/labor warranty, remote controls & metal cases. Available with black or silver aluminum front plates. Quantities limited!



NEW TOP-RATED CAMBRIDGE CX80 INTEGRATED AMP
"Cambridge really stepped up its game with its suavely restyled & affordable CX series. The dual-mono Class AB, 80W/ch CXA80 is ready for the digital world. With its built-in Wolfson 24 bit/192khz WM8740 DAC, computer audio is as close as the USB input or the front panel jack for portable players. [aIso includes RCA digital & toslink optical inputs; remote control & headphone jack.] Smooth, relaxed sonic performance & abundant headroom for more demanding speakers." ABSOLUTE SOUND 11/2015, HIGH END BUYERS GUIDE



Digital-Analog Converters

DAC MAGIC 100, list $400, now $299
"Astonishing performance for price." HI-FI NEWS
Both of these DACs are very versatile, with three digital inputs: USB, RCA digital & optical [toslink]. They will improve the sound of CDs, computers & other digital sources. This uses a high quality Wolfson WM8742 DAC.

DAC MAGIC PLUS, list $650, now $499


"New benchmark for DAC performance."

HI-FI+

The DAC MAGIC PLUS has the added benefits of a volume control & headphone jack, so it can be used as a preamp for digital sources or headphone amp. It has two high quality Wolfson WM8740 DAC with upsampling to 24 bits/384khz., plus three outputs: RCA, XLR balanced & digital. You can use this DAC vertically or horizontally.

CAMBRIDGE on DISPLAY

Stereo Integrated amplifiers:

CXA80


651A USB



Digital to Analog Converters:
DAC Magic, demo $249
DAC Magic 100, list $400, now $299
DAC Magic+, list $650, now $499

Phono preamps:
551P, moving magnet

651P, moving magnet & moving coil

Bookshelf Speakers: 10


RCA, optical, XLR & HDMI Cables



CAMBRIDGE AMPLIFIERS

The 651A integrated amp list price is $880. It's on sale for $589 & has 75W/ch/8 ohm & 100W/ch/4 ohm, plus a USB input & built-in DAC to improve a computer's sound.
It includes a remote control, preamp outputs, a subwoofer output & an oversize torroidal transformer with windings & regulators for left & right channel dual mono operation. Many competing amps have less power, no USB, fewer connections & cost twice as much as the 651A.

The power transformer is an amp's most expensive & most important electronic part, since it determines the amp's power output & bass. Cambridge amps' oversize torroidal transformers are unique in their price range. The finest amps, for many thousands of dollars, use torroidal transfomers, since they sound best & are quieter. Most amps & receivers for thousands of dollars have noisier standard transformers that can be heard humming across a room, even without the speakers connected. The metal plates of standard transformers vibrate 60 times a second. Torroid transformers are inherently shielded, more efficient & don't have the buzzing metal plates of most transformers.

Cambridge makes many affordable, high value speakers, starting with the Minx 10, which lists for $160 & we sell for only $129/pair. This amazing speaker is only 3x3x3", yet sounds far larger. The Minx 10 is available in a gloss black or white. Options include wall mounts, table stands or floor stands.

Cambridge has affordable interconnects, including RCA-RCA, [stereo & a mono 24 foot subwoofer cable], plus two XLR balanced cables, an optical cable & a RCA to mini plug. All have gold ends, quality wire & lifetime warranties.

CAMBRIDGE REVIEWS

Digital - Analog Converters

DACMAGIC Xs, now $199, portable USB-DAC headphone amp. In same class as $1300 DACs.
"Uses a high-quality, asynchronous-mode ESS Sabre ES9023 - the same chip in Peachtree's $1000 amp. Unlike competitors, it has its own 53-step volume control. The sound? Glorious. Greater top-end clarity & extension with a richer, more relaxed overall sound; more revealing & low level detail than others." STEREOPHILE 4/14

DACMAGIC, now $249, "Well-defined bass, extended highs, natural midrange & wide soundstage. In a word, it sounded glorious." STEREOPHILE

DACMAGIC 100, list $400, now $299, BETTER SOUND QUALITY THAN $1000 DACs
"Proving that great things can indeed come in small packages, BARGAIN PRICE, OUT-STANDING PRODUCT. Rated above Musical Fidelity, Rega & Shanling DACs. Astonishing performance for price; expansive soundstage, well-balanced & clean." HI-FI NEWS

DACMAGIC Plus, list $650, now $499,
"With twin Wolfson WM8740 24-bit DAC chips at its heart, 384/24 upsampling & up to 192/24 via USB 2.0. asynchronous USB transfer, balanced & unbalanced analog outputs [XLR & RCA] & provisions for an optional Bluetooth input that can use Apt-X Bluetooth digital codec, this modestly priced DAC delivers big-time." ABSOLUTE SOUND
More features: a headphone output & a volume control, so it can be a headphone amp & / or preamp for digital sources.

CD & DVD

650BD Blue ray DVD, list $780, now $699, rated in same class as $4700 models, "Compact & attractive, sounded superb" STEREOPHILE

851C, now $1999, "TOP-RATED 5 STARS in all 4 Aspects - Sound Quality, Value for Money, Build Quality & Features; Extraordinary array of features; refined & revealing sound that puts musicians in the room. Vast feature set. DAC functionality; ultra-revealing yet highly refined sound. A major advance on its already capable predecessor. Superb sounding. Includes a large toroid transformer. Compete with the very best in class in sound & is in a league of its own in features, which don't get in the way of the music; delivers a dynamic, clean & engaging result with pretty much anything you care to play. The fact the 851C can do so with a hi-res signal from your PC is the icing on the cake." HI-FI CHOICE

"Offers an asynchronous USB input among several digital inputs, along with source switching to allow it to act as a digital hub, obviating the need for a preamp. The 851C is more incisive, dynamic & robust sounding [than its predecessor]." ABSOLUTE SOUND



CAMBRIDGE AV RECEIVERS
551R, $1299, TOP PICK, HOME THEATER


CXR200, list $3300, now $2999, 200W/ch "The best sounding AV receiver for under $6000." WIDE SCREEN REVIEW 2/16


CAMBRIDGE SPEAKERS
S215, $800/pair, TOP PICK, HOME THEATER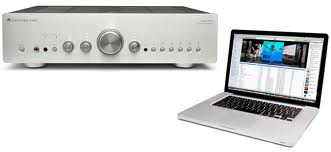 Cambridge Azur 651a with USB
for connection to any computer
Visitors since Jan 2001



Copyright © 2001-2009 GoldSound, Inc.
.