CAMBRIDGE AUDIO is back at Gold Sound...


Cambridge Azur 651a
ABSOLUTE SOUND & STEREOPHILE highly recommend Cambridge Audio for excellent sound, innovative, cutting edge designs & superior value. "Killed DACs selling for 2-3 times the money." STEREOPHILE

"Cambridge is a worldwide success, shipping to 50 nations. I was impressed by the considerable expansion; they employ 27 engineers & 3 software specialists in England [where they began almost 50 years ago]. Cambridge has the resources & will to keep ahead of the digital game." STEREOPHILE



CAMBRIDGE SALE!
All have 3 year parts/labor warranty, remote controls & metal cases. Available with black or silver aluminum front plates. Quantities limited!



STEREO INTEGRATED AMPLIFIERS on sale!

Audiophiles choose Cambridge integrated amplifiers for their superior sound, flexible features & great value. The following Cambrige integrated amps feature oversized audiophile toroid transformers for better sound & lower noise, USB computer inputs, ALPS film volume controls, remote controls that also operate Cambridge CD players, headphone jack & double banana jacks for A/B speakers.

651A, 75-100W/ch, list $880, now $599

NEW TOP-RATED CAMBRIDGE CX80 INTEGRATED AMP
"Cambridge really stepped up its game with its suavely restyled & affordable CX series. The dual-mono Class AB, 80W/ch CXA80 is ready for the digital world. With its built-in Wolfson 24 bit/192khz WM8740 DAC, computer audio is as close as the USB input or the front panel jack for portable players. [Includes RCA digital & toslink optical inputs; remote control & headphone jack.] Smooth, relaxed sonic performance & abundant headroom for more demanding speakers." ABSOLUTE SOUND 11/2015, HIGH END BUYERS GUIDE




Digital-Analog Converters

DAC MAGIC 100, list $400, now $299
"Astonishing performance for price." HI-FI NEWS
Both of these DACs are very versatile, with three digital inputs: USB, RCA digital & optical [toslink]. They will improve the sound of CDs, computers & other digital sources. This uses a high quality Wolfson WM8742 DAC.

DAC MAGIC PLUS, list $650, now $499


"New benchmark for DAC performance." HI-FI+



The DAC MAGIC PLUS has the added benefits of a volume control & headphone jack, so it can be used as a headphone amp or preamp for digital sources. It has two high quality Wolfson WM8740 DAC with upsampling to 24 bits/384khz., plus three types of outputs: RCA, XLR balanced & digital. You can use this DAC either vertically or horizontally.

STREAM MAGIC 6, list $1100, now $749
PRODUCT of the YEAR - WHAT HI-FI

COMBINED DAC, STREAMER & DIGITAL PREAMP.
1] Upsampling wi-fi network music sampler, 384k, 24 bit.
2] Internet radio - 50,000 stations world-wide.
3] DAC with two high quality Wolfson WM8740 DAC,
upsampling to 24 bits/384khz., 4 inputs: RCA,
Optical, USB A & USB B. Outputs: RCA, XLR
balanced & digital.
4] Digital preamp, volume control & headphone jack

CAMBRIDGE on DISPLAY

Stereo Integrated amplifiers:

CXA80


651A USB



Digital Streamers:
Stream Magic 6, list $1100, now $679
Minx Xi [includes built-in integrated amp]



Digital to Analog Converters:
DAC Magic, demo $249
DAC Magic 100, list $400, now $299
DAC Magic+, list $650, now $499

Phono preamps:
551P, moving magnet


651P, moving magnet & moving coil

Bookshelf Speakers: 10


RCA, optical, XLR & HDMI Cables



CAMBRIDGE AMPLIFIERS

The 651A integrated amp list price is $880. It's on sale for $599 & has 75W/ch/8 ohm & 100W/ch/4 ohm, plus a USB input & built-in DAC to improve a computer's sound.
It includes a remote control, preamp outputs, a subwoofer output & an oversize torroidal transformer with windings & regulators for left & right channel dual mono operation. Many competing amps have less power, no USB, fewer connections & cost twice as much as the 651A.

The Cambridge 351 integrated amp list is $600. It's on sale for $399 & has 45W/ch/8 ohm, plus a USB input & built-in DAC, to improve a computer's sound. It includes a remote control, preamp outputs, a subwoofer output & an oversize torroidal transformer.

The power transformer is an amplifier's most expensive & most important electronic part. The transformer determines the amp's power output & bass. Cambridge amps' oversize torroidal transformers make them unique. The finest amps, for many thousands of dollars, use torroidal transfomers, since they sound best & are quieter. Most amps & receivers for thousands of dollars have noisier standard transformers that can be heard humming across a room, even without the speakers connected. The metal plates of standard transformers vibrate 60 times a second. Torroidal transformers are inherently shielded, more efficient & don't have the buzzing metal plates that are in most transformers.

In addition to fine electronics, Cambridge makes many affordable, high value speakers, starting with the Minx 10, which lists for $160 & we sell for only $129 / pair. This amazing speaker is only three by three by three inches, yet sounds far larger. The Minx 10 is available in either a gloss black or white. Options include wall mounts, table stands or floor stands.

Cambridge also has a line of well-made, affordable interconnects. Their models include RCA to RCA, [stereo & a mono 24 foot long cable for subwoofers], plus two XLR balanced cables, an optical cable & a RCA to mini plug. All have gold ends, quality wire & lifetime warranties.

CAMBRIDGE REVIEWS

Digital - Analog Converters

DACMAGIC Xs, now $199, portable USB-DAC headphone amp. In same class as $1300 DACs.
"Uses a high-quality, asynchronous-mode ESS Sabre ES9023 - the same chip in Peachtree's $1000 amp. Unlike competitors, it has its own 53-step volume control. The sound? Glorious. Greater top-end clarity & extension with a richer, more relaxed overall sound; more revealing & low level detail than others." STEREOPHILE 4/14

DACMAGIC, now $249, "Well-defined bass, extended highs, natural midrange & wide soundstage. In a word, it sounded glorious." STEREOPHILE

DACMAGIC 100, list $400, now $299, BETTER SOUND QUALITY THAN $1000 DACs
"Proving that great things can indeed come in small packages, BARGAIN PRICE, OUT-STANDING PRODUCT. Rated above Musical Fidelity, Rega & Shanling DACs. Astonishing performance for price; expansive soundstage, well-balanced & clean." HI-FI NEWS

DACMAGIC Plus, list $650, now $499,
"With twin Wolfson WM8740 24-bit DAC chips at its heart, 384/24 upsampling & up to 192/24 via USB 2.0. asynchronous USB transfer, balanced & unbalanced analog outputs [XLR & RCA] & provisions for an optional Bluetooth input that can use Apt-X Bluetooth digital codec, this modestly priced DAC delivers big-time." ABSOLUTE SOUND
More features: a headphone output & a volume control, so it can be a headphone amp & / or preamp for digital sources.

CD & DVD

650BD Blue ray DVD, list $780, now $699, rated in same class as $4700 models, "Compact & attractive, sounded superb" STEREOPHILE

851C, now $1999, "TOP-RATED 5 STARS in all 4 Aspects - Sound Quality, Value for Money, Build Quality & Features; Extraordinary array of features; refined & revealing sound that puts musicians in the room. Vast feature set. DAC functionality; ultra-revealing yet highly refined sound. A major advance on its already capable predecessor. Superb sounding. Includes a large toroid transformer. Compete with the very best in class in sound & is in a league of its own in features, which don't get in the way of the music; delivers a dynamic, clean & engaging result with pretty much anything you care to play. The fact the 851C can do so with a hi-res signal from your PC is the icing on the cake." HI-FI CHOICE

"Offers an asynchronous USB input among several digital inputs, along with source switching to allow it to act as a digital hub, obviating the need for a preamp. The 851C is more incisive, dynamic & robust sounding [than its predecessor]." ABSOLUTE SOUND

INTEGRATED AMPS




CAMBRIDGE AV RECEIVERS
551R, $1299, TOP PICK, HOME THEATER


751R, $2999, TOP PICK, HOME THEATER
"What the Azur 751R lacks in whiz-bang features, it makes up for with natural, effortless sound that reviewer Mark Fleischmann deemed "worth every penny of its price."

CAMBRIDGE SPEAKERS
S215, $800/pair, TOP PICK, HOME THEATER

STREAM MAGIC 6, list $1150, now $799


The Stream Magic 6 unifies digital music from a wide range of sources & outputs in incredible quality. Here are 13 reasons to choose Stream Magic 6:

Two high performance Wolfson DACs

The Stream Magic 6 employs twin Wolfson WM8740 DACs (Digital to Analogue Converters) used in a dual differential mode allowing the audio data for each channel to be converted completely separately for greater accuracy & ultimately a superb sound performance.

ATF2 Adaptive Time Filtering

All music is signi

ficantly enhanced thanks to our 2nd generation Adaptive Time Filtering, an upsampling process developed with Anagram Technologies of Switzerland. This intelligently adapts incoming audio data to 24-bit/384kHz. The ATF2 system reduces jitter (timing errors), an audible form of interference which affects all digital music, particularly when stored on computer hard drives & is the audio equivalent to a blurred image.

Networked music & USB connectivity

The Stream Magic 6's

flexibility means music files can be accessed from a variety of sources, including a PC/laptop (Windows 7, Vista, XP), almost any MAC or a NAS (Network Attached Storage) drive with UPnP (Universal Plug & Play) file sharing enabled. The high quality asynchronous USB audio input allows playback of up to 24-bit/192kHz high resolution files from a connected computer for bit-perfect transfer to the Stream Magic 6, ensuring all data is delivered in perfect timing for the highest possible sound quality. There are two USB inputs for local media stored on USB HDD (memory sticks or external USB drives).

File formats

The Stream Magic 6 supports many CODECs including, better than CD quality 24-bit/96kHz FLAC/WAV

files, plus AIFF, WMA, MP3, AAC, HE AAC, AAC+ & Ogg Vorbis.

Stream Magic 6 at a glance:

Upsampling digital hub: The Stream Magic 6 unifies a host of different digital audio sources, locally & from around the world, using upsampling technology to make all music sound fantastic.

Free dedicated Stream Magic Apps: Apps for iPhone/ iPad/iPod touch & Android devices allow the freedom & convenience of effortless & intuitive control of a Stream Magic 6's connected sources & services. Easy to set up & configure: Once connected to a home network (the same way a computer would connect to the internet) you can enjoy their music & all the Stream Magic 6's connected services.

High-end components and technologies:

High quality twin Wolfson DACs ensure great sound, plus our latest ATF2 upsampling technology works to improve significantly all audio from the Stream Magic 6 to 24-bit/384kHz.

Lossless studio quality audio: Asynchronous USB audio input supporting 24-bit/192khz studio quality files for the best sound from a PC/Mac. Access music anywhere in the home: With a wired & wireless (using the latest Wi-Fi standards) network connection, the Stream Magic 6 can access music stored anywhere in the home. High-end connections: Balanced analog XLR outputs allow the best possible connection to a high-end amp, such as Cambridge 851A. Standard phono/RCA outputs are included.

Digital connections:

Connect a host of devices such as a digital iPod dock, TV or games console.

Bluetooth connectivity:

With the optional BT100 Bluetooth receiver, users can wirelessly stream music direct from any Bluetooth enabled device (iPhone, iPad, smart phone laptop, Macbook) to the Stream Magic 6. This added functionality allows users to browse & control endless content from the comfort of a chair.

Solid, all metal construction



Digital filters: You can tweak the sound to suit you preferences with 3 selectable digital filters - linear, minimum & steep.

Pre-amp mode: The Stream Magic 6 can be used as a pre-amp for direct connection to active speakers or a power amp.

Around the home:

There's no limit to the number of Stream Magic 6 devices which can be used. With more than one unit, users can access their favorite music from computers, laptops & NAS drives in different rooms.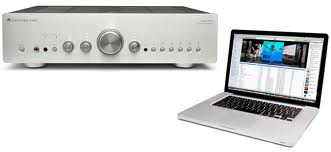 Cambridge Azur 651a with USB
for connection to any computer
Visitors since Jan 2001



Copyright © 2001-2009 GoldSound, Inc.
.