ROKSAN quality audio products from England !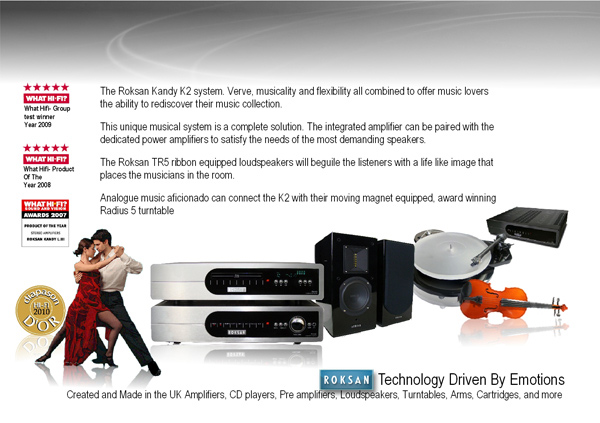 ROKSAN - MADE IN ENGLAND, 5 year parts & labor warranty

For over 25 years, all Roksan products have been handcrafted in England. Roksan models are consistently recommended by Stereophile & other magazines, winning best in class awards, including for amplifiers, CD players & turntables.

SAVE MORE on the pair! ROKSAN K2 USB Integrated Amp with 5 year parts & labor warranty.

INTEGRATED AMP REVIEWS

KANDY K2 BT, with Bluetooth input, $1900. STEREOPHILE RECOMMENDED 10/15 in same class as $7000 amps. "Notable for offering a phono stage, a Bluetooth input, 3 line level inputs, preamp-out jacks, [remote control with LCD screen] & AV bypass, it delivers 140W/ch/8 ohm & 200W/ch/4 ohm. The phono was the best I've heard in a moderately priced amp - it played LPs in living color."

"The headphone [amp] was more dynamic,detailed & fun than I've heard from any other integrated amp. Its phono stage was the best l've heard in a moderately priced integrated. The Roksan sounded more relaxed & natural. Highly Recommended!" STEREOPHILE 11/14

"When most amps [NAD, Linn, Naim, etc.] are without phono stages, the Roksan Kandy K2's inclusion of the same may be its greatest technical distinction. The K2 distinguished itself as a clear, big-sounding, rhythmically accomplished amp. The K2 [is] one of the most listenable entry-level amps. The phono section deserves special mention for its freedom from hum & noise; & [its] slight & pleasant roundness. The K2 is an amp one can grow into for quite some time before wanting more; a neat balancing act, a rare success. The Roksan is built like Schik Brithouse, offers very good value for the money & I enjoyed every minute listening to it. Highly recommended." STEREOPHILE on line

BEST STEREO AMP in price class, WHAT HI-FI




CASPIAN M2, now $2807
BEST STEREO AMP in price class, WHAT HI-FI "Dynamically highly expressive; just plain lovely to listen to; definitely our pick of the pack. Continuous power / ch: 85W, 8 ohm, 125W, 4 ohm; dynamic: 310W, 2 ohm, 350W, 1 ohm."

CD PLAYER REVIEWS

KANDY K2 CD Player, list $1925, now $1198 BEST CD Player under $2600, WHAT HI-FI, Awards

CASPIAN M2, now $2807
BEST CD PLAYER in price class, WHAT HI-FI,
"Astonishing sense of rhythm, natural stereo imaging & sense of space, precise positioning of sound; perfect definition. Excellent resolution & dynamics. Very musical, excellent sense of rhythm." DIAPASON D'OR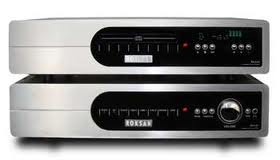 Roksan Kandy Integrated Amp and CD player
GO TO HOME PAGE

Visitors since Jan 2001



Copyright © 2001-2009 GoldSound, Inc.
.